Organic Cotton Fleece Scarf w/ Pockets & Natural Flaxseed Heating Pad
This super-soft fleece scarf with extra-deep pockets to warm your hands is also a gel-free heatable compress filled with natural flaxseed and aromatic herbs to drape over sore shoulders and neck. 
Herbal Concepts handcrafts these in the USA from the highest quality certified organic cotton fleece. They're lined with all-natural flaxseed and their physician-formulated combination of 12 thermapeutic herbs and grains, gathered from around the world for their unique healing benefits. 
Available in Pure (natural flaxseed only) or  Aromatic (with 12 natural herbs and grains).
Gently soothe and comfort your neck and shoulders while staying warm and cozy with our heatable flaxseed filled warming scarf! Handcrafted using natural herbs and grains to relieve stress, tension, cramps, and muscle discomfort.
Warm in the microwave to enjoy calming relief from 100% all-natural herbs, flaxseed, and other natural ingredients. Relax, restore and rejuvenate your body and soul.
Or, chill in the freezer and apply to sore bones and muscles... the extra length of the scarf allows you to twist or tie the chilled pad to stay put on any part of your body.
Herbal Concepts takes pride in producing products made with the highest quality ingredients, crafted using a physician formulated combination of herbs and grains. The 12 aromatic herbs are gathered from around the world; each provides their own unique healing benefits. You'll see, smell and feel the Herbal Concepts difference.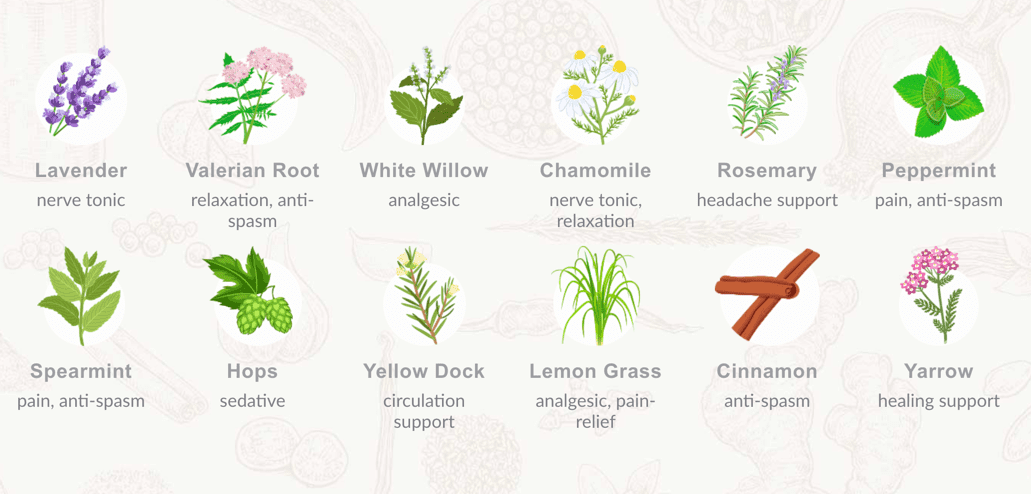 Shopping for someone fighting or avoiding  cancer?
You'll naturally want to a gift that shows you care, something to bring comfort. Yet there's something much more important when buying for someone fighting cancer (or anyone, really, that doesn't ever want to fight cancer).
Don't buy ANY products that
cause cancer!
It seems obvious, but it isn't always. Many products - even cancer pateient gifts! - are made of polyester or toxic plastics. Yuck! Don't do that!
Cold Therapy Benefits
Improves Lymphatic and Immune Systems
Improves Circulation
Reduces Muscle Inflammation
Reduces Stress
Relieves Eye, Sinus & Migraine Headaches
Boosts Metabolism
Restores Energy
Boosts Productivity
Soothes Arthritis, Bone and Muscle Pain
Heat Therapy Benefits
Releases Muscle Pain
Increases Blood Flow/Improves Circulation, Helping Heal Injuries Faster
Eases Stress and Tension
Decreases Joint Stiffness
Reduces Pain and Soreness
Relieves Muscle Spasms
Relaxes Entire Body
Alleviates Cold & Flu Symptoms
Enhances Emotional Balance
Aromatherapy Benefits
(only included with aromatic option)
Lavender – nerve tonic
Valerian Root – relaxation, anti-spasm
White Willow – analgesic
Chamomile – nerve tonic, relaxation
Rosemary – headache support
Peppermint – relieves pain, anti-spasm
Spearmint – relieves pain, anti-spasm
Hops – sedative
Yellow Dock – circulation support
Lemon Grass – analgesic, pain-relief
Cinnamon – anti-spasm
Yarrow – healing support
Additional information
Weight
3 lbs
Dimensions
10 × 6 × 4 in
Material

Certified USDA NOP 100% Organic, Extra Soft Cotton Fleece

Color

Natural

Scent

Pure (natural flaxseed only), Aromatic (12 natural herbs and grains)

Ingredients

Premium Flaxseed, Wheat, Lavender, Chamomile, Peppermint, Spearmint, Lemon Grass, Rosemary, Cinnamon, Yarrow, White Willow, Valerian Root, Yellow Dock, Hops & other natural ingredients. (Pure scent option contains flaxseed only).

Actual Product Size

65 in. long x 5.5 in. wide and 0.5 in. thick. (Other size mentioned is shipping package size)

Use Instructions

Use Cold: Seal in plastic bag and place in freezer for 1-2 hours – or store in the freezer for always-ready relief!

Use Warm: Place wrap in the microwave for 1 minute with room for the turntable to rotate freely. Massage the pack to distribute the heat evenly, and depending on desired warmth heat for another 30 seconds if needed, not to exceed 2 minutes total. Apply to sore areas to melt away the pain.

Care: Spot clean with a damp cloth, air dry. Do not submerge.