Almost ten years after my cancer diagnosis I am still recovering from the brutal treatments. I went from a fit 35-year-old to a 45-going-on-85-year-old. I've too many issues to list. I am a shell of my former self. I will never be the same.
I don't want that to happen to anyone else. That's what this site's about. Helping others Avoid Cancer and, if that fails, Beat Cancer without destroying your body.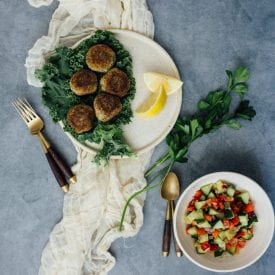 INGREDIENTS 1 teaspoon sea salt, divided 1 ⁄ 2 cup quinoa 2 green onions, chopped 2 large cloves garlic 1 ⁄ 4 cup chopped fresh cilantro or parsley 1 (16-ounce) can chickpeas, drained and rinsed 1 teaspoon ground cumin 3 tablespoons freshly squeezed lemon juice 1 ⁄ 2...
read more