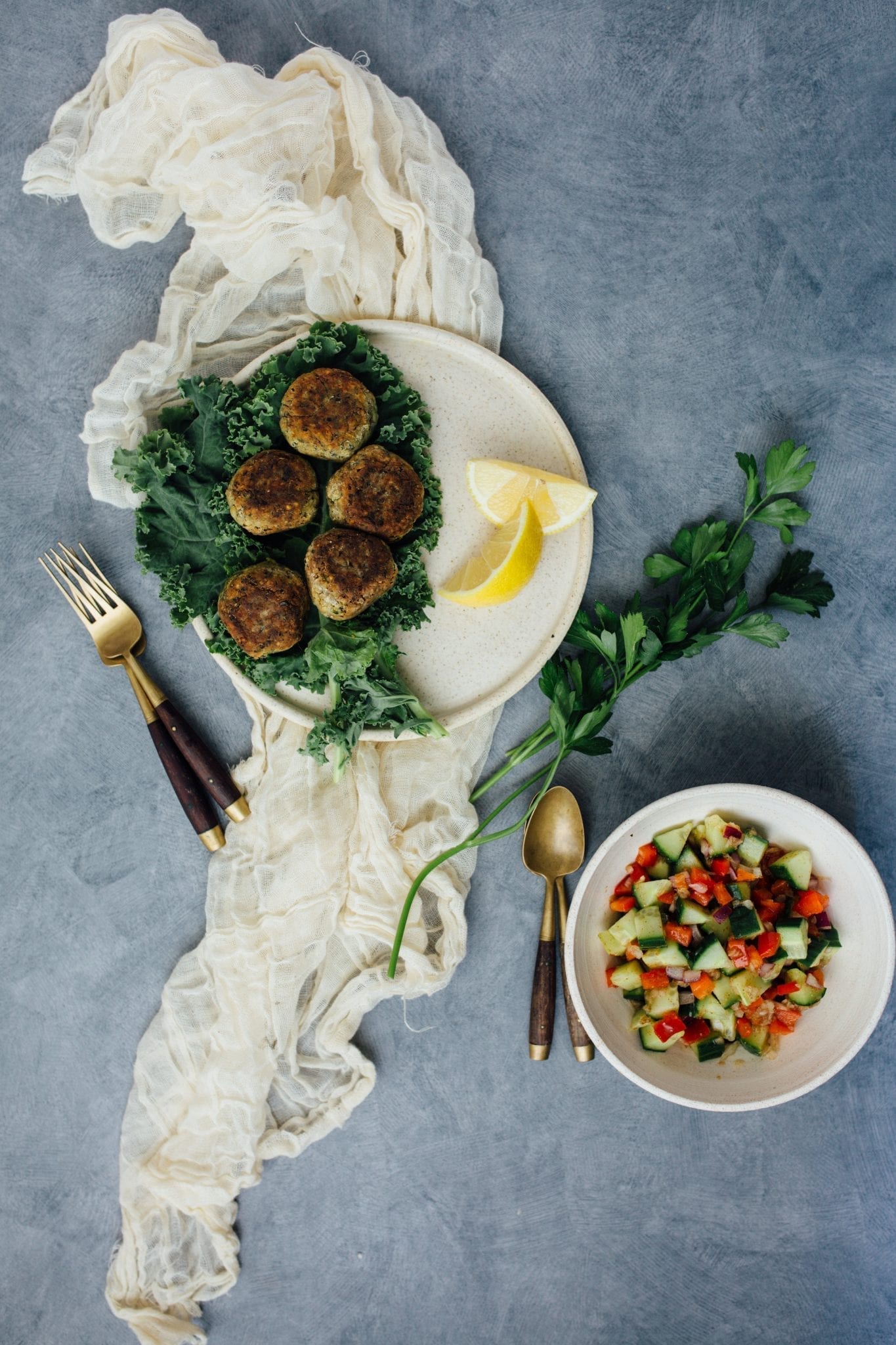 Fast and Easy Vegan Falafel
Makes About 24 Small Falafel
INGREDIENTS
1 teaspoon sea salt, divided
1 ⁄ 2 cup quinoa
2 green onions, chopped
2 large cloves garlic
1 ⁄ 4 cup chopped fresh cilantro or parsley
1 (16-ounce) can chickpeas, drained and rinsed
1 teaspoon ground cumin
3 tablespoons freshly squeezed lemon juice
1 ⁄ 2 cup chickpea or all-purpose flour, plus more if needed
4 tablespoons extra-virgin avocado oil, plus more as needed
INSTRUCTIONS
Line a large platter with paper towels or a tea towel.
Bring 1 cup water and 1 ⁄ 2 teaspoon of the salt to a boil in a saucepan over high heat. Stir in quinoa and bring back to a boil. Cover, reduce heat, and simmer for 15 to 20 minutes, until the water is absorbed and the grain is tender, light, and fluffy. Stir, remove from heat, and set aside to cool completely.
Combine green onions, garlic, and cilantro in the bowl of a food processor. Process for 30 seconds, or until chopped. Add chickpeas, cumin, remaining 1 ⁄ 2 teaspoon of salt, cooked quinoa, and lemon juice. Process until smooth. Test consistency and add flour by the tablespoon until the mixture holds together for cooking.
Spread flour in a shallow dish and lightly dust your palms with some. Scoop 1 or 2 tablespoons of the mixture into your hands and roll it into a ball, dusting it with flour after it is rolled. Set on a plate or baking sheet. Repeat until all of the mixture has been formed into balls. You should have about 24 balls.
Heat 2 tablespoons of oil in a skillet over medium-high heat. Using a spoon, add 3 or 4 balls to the pan and fry, turning often with a fork, for about 4 minutes, or until golden brown all over. Lift out and place on the platter.
Continue cooking remaining balls in batches, adding more oil to the skillet as needed.
TO SERVE
Serve as an appetizer or snack with Cucumber Relish, Peanut Sauce, or Chipotle Dipping Sauce.
TO USE
Cooked falafel can be tossed with salads, added to Tomato Sauce, or stuffed into pita pockets or taco shells along with lettuce, tomato, and onions.
This recipe was originally posted at Reducetarian.org. The Reducetarian Foundation is a vehicle for spreading the personal, environmental, and animal welfare benefits of eating fewer animal products and for conducting empirical studies on how best to communicate this information to consumers, business leaders, and policy-makers. Check 'em out!