I am a 45 year old breast cancer survivor, with a 60% chance of living to 47. Any poker player would tell you not to play those odds. But I'm all in.
I was diagnosed with cancer at 36, relatively young. I ate healthy foods — vegetarian, organic when I could — and exercised regularly. 
I was shocked.
More so, I was
afraid.
So I got into the "Cancer Warrior" mindset, and started my path to beating cancer at all cost. Surgeries? Yes! Radiation? Yes, please! Super aggressive, dose-dense chemo? Bring it on! A life-long regiment of hormone therapy pills? Sign. Me. Up. If it didn't knock me over dead on the spot, I'd do it, again and again, until I was free of cancer.
Yet I could feel myself getting weaker and sicker with every treatment.
Some signs were acute and obvious, like the burning stream of blisters that ran up my arm as the first dose of a new chemo entered my veins. Others were painfully debilitating, chronic, and all were compounding.
I watched in extreme slow motion as my world came to a grinding halt.
I had no other choice but to live life at this speed, to follow the speed of the universe around me.
Weeks became months… became years. In absolute stillness. Breathing… thinking… doing nothing more than watching my family's lives progress without me. This observation brought a zen-like understanding, an enlightenment. 
The path I was on was breaking me down. I needed to do things to strengthen myself and protect myself, preventing cancer's return — without killing myself in the process. This became my new mindset, my new path.
And throughout everything, every sick, dark, painful experience has been countered with the most love I've ever witnessed, the best people I've ever known, and new appreciation for every single moment that is my life.
This is my cancer zen.
Below are some entries from my personal diary of this journey
This is me. I just found out I have cancer.
Stage 3B. Invasive Ductal Carcinoma. Breast Cancer.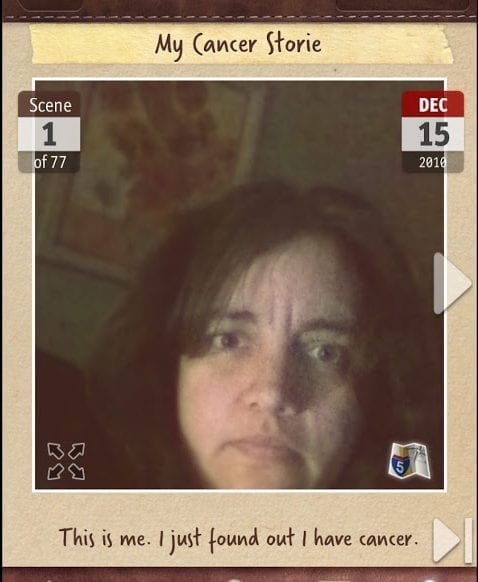 I'm 36 years old, a mother of three. I'm in generally good health. A vegetarian since I was 11, I eat mostly healthy, "real" foods. I exercise regularly, at least a few times a week, and I recently ran my first and only 5k, where I (proudly!) did not come in last!
Thanksgiving was closing in, and we made plans to visit my parents in southwestern Virginia. It was especially important for me to spend the holiday with my father, as he had recently been diagnosed with lung cancer and was beginning to show signs of losing his battle.
As I was packing, I noticed an odd sensation, as if there was a string somehow attached to the skin on the inside of my breast, and it was being pulling inward from the inside. Interesting. We kept our quick pace, got the children and dog packed and into the car and headed to the mountains.
About two weeks later, back at home, I was changing my shirt and felt that same sensation. I looked in the mirror, and noticed a dimple. It looked as if there actually WAS a string being pulled inward, from the inside. Without a thought, my fingers made their way to my breast, where I felt behind the dimple a lump, the size of a marble, and every bit as hard and solid.
As soon as my finger made contact, I felt a shift in the universe. Sound and sight and consciousness swirled around me. I was dizzy. I was nauseous. I was stunned, shocked. Time stood still as I stared blankly into my eyes in the mirror. I blinked. I knew immediately. I just knew. I had breast cancer.
I met with Dr. Joe Jenkins of Carolina Surgical, at Regional Medical Center in Kitty Hawk, NC. From the first moment I was very comfortable with him and his team. His nurse Susie was a firecracker and both of them were my fast friends.
He read the mammogram and ultrasound reports and said he'd like to get a core biopsy sample, right then and there in the office. I don't know why I didn't expect it, but it was seeming so sudden.
He used what I refer to as "the nail gun", which shot a hollow needle into my breast and retrieved tissue from the breast in the core of the needle. Like in geology, where a core sample of earth tells you what's in the ground below. As is always a risk in a "blind" biopsy (where the doctor is not guided by live digital imagery) he hit a nerve and a blood vessel, which made what should have been a minor procedure incredibly painful and messy.
The strip of barrier islands we live on is a really remote area. Dr. Jenkins works primarily out of an office in neighboring Elizabeth City, and only came to our area on Thursdays. So, we made a follow-up appointment for the following Thursday, but he agreed that he would call me with the core biopsy pathology results as soon as he got them.